Naloxone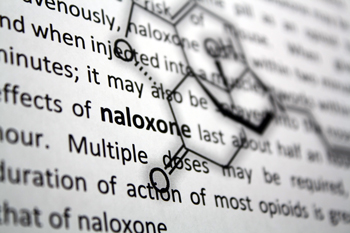 Naloxone is a medication designed to rapidly reverse opioid overdose. It is an opioid antagonist—meaning that it binds to opioid receptors and can reverse and block the effects of other opioids. It can very quickly restore normal respiration to a person whose breathing has slowed or stopped as a result of overdosing with heroin or prescription opioid pain medications.
What are the Different Types of Naloxone?
There are three FDA-approved formulations of naloxone:
Prepackaged Nasal Spray (NARCAN®)
This is a prefilled, needle-free device that requires no assembly and is sprayed into one nostril while patients lay on their back. NARCAN® comes in a carton containing two doses to allow for repeat dosing if needed. NARCAN® is relatively easy to use and suitable for home use in emergency situations.
How to use Narcan:
Autoinjectable (EVZIO®)
This is a prefilled auto-injection device that makes it easy for families or emergency personnel to inject naloxone quickly into the outer thigh. Once activated, the device provides verbal instruction to the user describing how to deliver the medication, similar to automated defibrillators.
Injectable (generic brands available)
Naloxone can also come as an injectable liquid solution that can be administered intravenously, intramuscularly or subcutaneously. The intravenous route is recommended in situations involving healthcare professionals. For caregivers or bystanders the intramuscular (into the muscle) route is suggested.
Note: Both NARCAN® Nasal Spray and EVZIO® are packaged in a carton containing two doses to allow for repeat dosing if needed. They are relatively easy to use and suitable for home use in emergency situations.
Where can I get naloxone?
Connecticut law allows trained and certified pharmacists to prescribe naloxone to anyone requesting it. The pharmacist is required to educate the person before prescribing as well. This interactive map of Connecticut will help you find the closest pharmacy that prescribes naloxone. Be sure to call the pharmacy prior to your visit to ensure they have the naloxone in stock.
NORA Naloxone + Overdose Response APP
How much does naloxone or NARCAN® cost?
The cost of naloxone will depend on where and how you get it. If you have commercial insurance, check with your provider to see what the co-pay is for naloxone. The cost for naloxone is covered if you have Husky C or Medicaid LIA.
Once I have naloxone, where should I keep it?
Store naloxone at room temperature and keep it away from sunlight. Do not store it in the refrigerator.
If I administer naloxone on someone who is not experiencing an opioid overdose, will I hurt them?
Naloxone is a safe medication and will not cause any harm to someone if they are not overdosing from opioids.
How long does naloxone take to work?
When administered properly, naloxone usually works within 2 to 5 minutes. If the person does not respond, administer the second dose.
---
Source: Connecticut Department of Mental Health and Addiction Services; National Institute on Drug Abuse; National Institutes of Health; U.S. Department of Health and Human Services